About Executive Choice Chauffeurs
Executive Choice Chauffeurs offer you a hassle free, time saving, luxurious chauffeur service.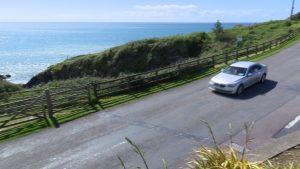 Whether you need a chauffeur service for business or pleasure you can be assured of a professional, friendly chauffeur, a luxury limousine and a relaxed, comfortable journey.
A family run business with over 15 years in the executive transport business, we at Executive Choice Chauffeurs, know that safe driving, route planning for on-time arrivals; personal attention and discretion are key requirements for clients seeking an executive chauffeur service in Ireland.
While there are other professional chauffeur services in Ireland, we have taken the  luxury travel experience a step further. At Executive Choice Chauffeurs the role of chauffeur has been combined with that of tour guide. Your highly trained, experienced and knowledgable chauffeur/guide will ensure that your travel experience in Ireland will be a very positive one.
Meet the Executive Choice Chauffeurs
Tom O'Sullivan is a Company Director of Executive Choice Chauffeurs. He prides himself on running a highly professional and efficient company which provides an excellent service to its customers. The fact that Executive Choice Chauffeurs has long-standing transport contracts, of over 17 years duration, attests to the high professional standards held by the company.
With his many years of experience in the service industry, Tom knows how to provide you with a perfect travel experience. He has a love for Irish history, folklore and culture and he is passionate about ensuring that you will experience authentic Ireland. He will take you off the beaten track to visit historical sites and castles or to chat with locals in a small rural pub.
Email or call Tom on +353 21 434 3880
Our family absolutely loved Tom! He was so knowledgeable, prepared, flexible and most importantly kind. The children ( and adults) felt completely secure and worry free in his care. We spent almost two weeks touring around Ireland with Tom as our driver and guide. There were eight of us all together (adults, teens and tweens) and we all agreed that it was the smartest thing we did to hire Tom to be our guide. Can't recommend enough!!
TripAdvisor Customer
After arriving in from London, we were told that the Mallow Races were one of the main attractions. After enquiring at our hotel about private transport, we were advised to book Executive Choice Chauffeurs. A young guy, dressed very smartly, called Wayne collected us and brought us to the races. When we arrived, he informed us that Tom, one of the co owners of the business got in contact with one of the best jockeys in Cork and gave us a list of tips for each race. During the races, Wayne came up to us and asked if everything was ok and even took pictures of us. This is by far and above the best Chauffeur Company we have ever used. And we are coming from an English perspective where we used Chauffeur services regularly.
TripAdvisor Customer
When we landed in Shannon, Tom was there to greet us with a welcoming smile and his pristine BMW 7 Series for our drive to Hayfield Manor in Cork; and again, on departure from there and return ride to Dromoland nearby Shannon.
Tom not only gave us a relaxing, safe and comfortable ride but also provided wonderful and welcome observations for us on our first visit to Ireland and his territory.
We'd looked into other private transportation options prior to our visit, and chose Tom's company based on very high marks from our hotel concierge, as well as his competitive price.
We recommend Tom and ECC most highly, and are certain to use his services on our next visit to the Shannon/Cork area!!!
TripAdvisor Customer